Dwarf

DeepGroover-(T)
July 2, 2014

Caves
> DeepGroover's Entry Hall > previous >

Dwarf

> next

---
Scroll down for more..


July 2, 2014: I got this figure from Scibor Miniatures in Poland (the same folks who made that awesome bust I painted and named "Gort the Red"), along with the little gnome I did for my mom.

This piece was not mentioned because I wanted to keep it a secret. I've been working on it for a few weeks, and now it's done except for the name plate. The detail in these pieces is amazing to me....all the more when I consider the price. You simply cannot buy a figure of this quality anywhere here for close to this price. What's better, when I purchased it there was a sale going on, so the figure and base, as you see it, cost under $19. The scenic base is a work of art in itself. You can see the upright head of a statue in the foreground, but do you see the larger head sideways under his feet? Grass (moss?) was growing throughout, and one token leaf plant. I had a lot of fun just painting the base, and trying to get realistic rock colors. I used multiple shades of green and even a bit of yellow for the grass. The stone is a few shades of grey, with a bit of brown oil wash for effect.
The surface he stands on is meant to be some sort of ancient carved floor, so I gave it a lighter color. Now the figure....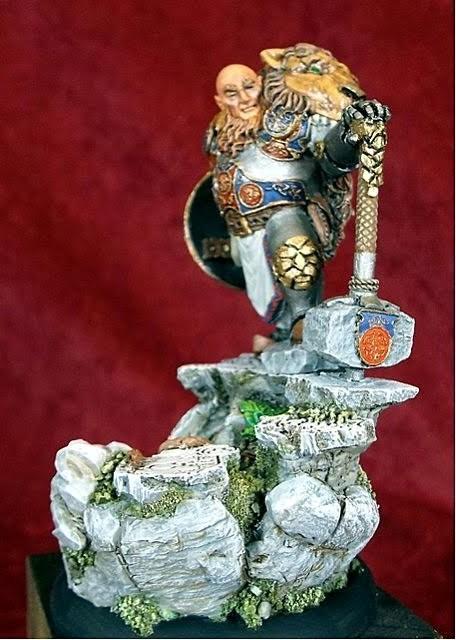 He came in just 3 pieces....main body, hand holding shield and hand holding weapon. I chose to pin the hand holding the weapon, but just glued the shield hand. I wanted him to have a very regal appearance, and with all the wonderful detail in his armor I chose a blue/red combo. I blocked in these colors first, then later gently dusted a brush with gold paint over it to highlight the engraving. I'm very happy with the result, but it probably looks harder than it was. His main armor is steel darkened with some black. The lion cloak was a cool touch, and I hope I did a good job on it since I'm not too familiar with wildlife. I decided to paint the lion eyes green, as if they were emerald jewels.

[Note: this picture is on the Valar Guild home page index of rotating images.]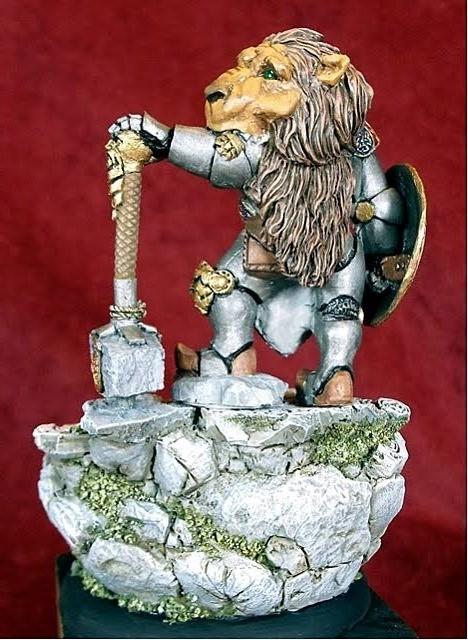 This whole project was a delight to paint, and the surprise isn't just that I painted him. The real surprise is that I painted him for someone. That someone is [Varda - real name changed to name used on this site].

[Varda] has been my sister's best friend [Elwing is the sister] since I can remember, and she and her family have been like our own extended family. She always makes time to see my latest work when visiting, and is always one of the first to respond to these updates with gracious words of praise for my efforts. She also runs a website for Tolkien (Lord of the Rings) and features some of my work that relates to the website's subject matter. I am profoundly proud to make this piece a gift to her, and look forward to the opportunity to present it in person. I will, of course, sign and date it.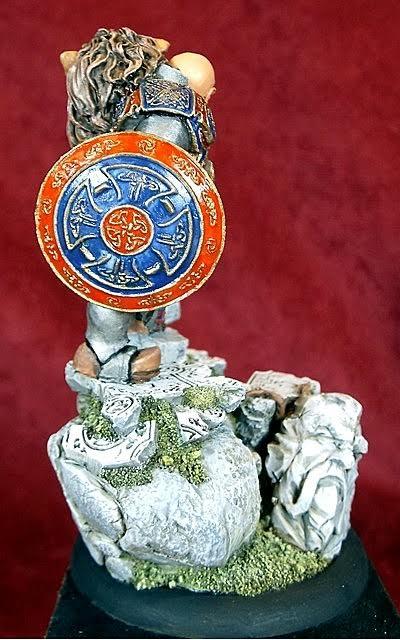 July 6: I cannot praise this company enough. The selection of items they offer for the cost is unbeatable. Pretty much all the figures in this scale (54mm) sell for at or under $26. They also make a lot of gaming figures, but I don't know what game(s) they relate to. At the very least it might be fun... to look around. The company is Scibor Miniatures, and they are based in Poland. Shipping to me for every order so far has been a flat rate of $10, and that ended up being pretty darned quick and very well packed. Anyway, just thought I'd pass this along. I'm anxious to see what they come out with in the future.