Werewolf

DeepGroover-(T)
September 23, 2012

Caves
> DeepGroover's Entry Hall > previous > Werewolf > next

---
Click to enlarge.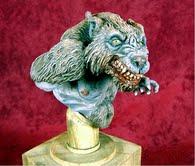 Today I put the final touches on my last project before vacation. It's one of 3 different pieces I bought at the regional contest last weekend. The product name is simply "Werewolf", but I plan to come up with a better name than that for the name plate. I don't know what scale this bust is, but I'd estimate it to be about 1/10th. Its made of resin, and came in two pieces...the body and the arm. I was impressed when I first saw it for the sculpting, casting, and price. I paid $25 for this, and compared to other items I've bought that's a bargain.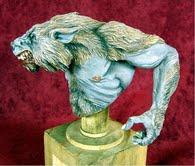 A few of you might be interested in purchasing this (and you know who you are), so it came from John's Models in Florida. You can email him at johnsmodels@hotmail.com
I think if you inquire about the Werewolf bust that sells for $25 that would be enough information.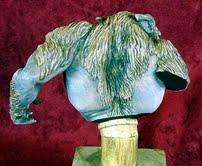 The union of the arm to the body was great, and minimal filling was needed. Also I didn't have a lot to clean up on the figure as far as seams. The detail in such things as the fingers is great, and a little care is needed to tidy them up. It didn't come with a base, so I made one of my own. I used a wooden cylinder cut to give the proper angle for mounting him. He's painted as always with enamels. I did, however, use white oil paint for his teeth. Some acrylic gloss was put over his mouth and eyes, and then the blood was added to his mouth. I glossed over that too when dry.








It was a fun piece to do, and a real bargain for this sort of thing. I plan to share photos with the man I bought it from, and compliment him on a fine item.










top