The Guardian

DeepGroover-(T)
March 8, 2011

Caves
> DeepGroover's Entry Hall > previous >

Guardian

> next

---
Click to enlarge.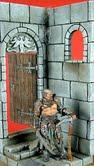 Next up is one of my favorite pieces to date. Its original name is "The Gatekeeper", but since I wanted him guarding a door I renamed the scene "The Guardian".
His scale is 54mm, and what a fantastic bit of sculpting! I had a blast painting this figure, and the armor allowed me to get creative with colors. This is also the first figure who had more skin showing than just the face, hands, and/or arms.
The castle base is also resin, by a company named Seil Models. Sadly they are no longer in business, but some of their pieces are still available for sale.
I added cobwebs to the corner of the wall by pulling apart a Q-tip, then stretching and tacking it against the wall with Elmer's Glue and a toothpick.
Also, to allow at least some view of the figures backside (equally impressive), I chose to glue the door open. Doing so required me to create hinges. They are made from wire and styrene plastic strip. They are not functional, so the door is delicately glued into position.
I've enjoyed these two items by Nocturna [
dwarf
and guardian] so much I ordered two more different ones. I only hope they are as impressive as these first two were. As always everything is painted with enamels.
Well, that's about all for now. The Houston contest is coming at the end of April, so I plan to make a big display for it. I mentioned before I don't plan to judge this year, so if any of you choose to come out I'd be free to visit. Take care, and bye until next time.