Cerdic of Wessex

DeepGroover-(T)
April 2, 2011

Caves
> DeepGroover's Entry Hall > previous >

Cerdic

> next

---
Click to enlarge.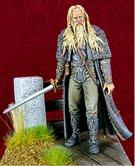 Dad just took photos of my two most recent finished pieces. The first is a 54mm resin figure by Nocturna Models. It's the second piece by this company I've painted, and I love the brand so far.
When naming the piece I learned about a "faux pas" by the company, either intentional or by accident. They named it "Cedric of Wessex" but according to a reliable source (thanks Varda!) and my own follow-up I found out there was a real man named Cerdic...of Wessex. He was also a king. Therefore my name plate says "King Cerdic of Wessex". Except for my figure's hair being blonder it resembles the box art exactly.
[This model is used to illustrate the Tolkien Encyclopedia article for "
Hama
".]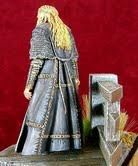 The bridge section is by Seil Models, and I added the grass. As always, painted with enamels. Yada yada yada. :-)
top