Evil Wolf

DeepGroover-(T)
May 31, 2010

Caves
> DeepGroover's Entry Hall > previous >

Evil Wolf

> next

---
Click to enlarge.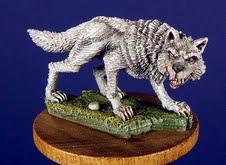 A weekend to complete a figure. That was my record....until last week. The last photo of the evil wolf is a Dark Sword Miniatures gaming piece. I finished it...including the base....during the series finale of "Lost". I used enamels for all of it, and added nothing. What can I say? I just couldn't sit idle. Besides, I didn't stay interested in "Lost" anyway.
Used to illustrate "
Wargs
" in the Tolkien Encyclopedia.



top