Knight of the Holy Grail

DeepGroover-(T)
September 17, 2008

Caves
> DeepGroover's Entry Hall > previous > Knight of the Holy Grail > next

---
Click to enlarge. Scroll down for more.



I just finished my latest figure, and dad took some photos tonight. My job lost power in the storm [Hurricane Ike], and I haven't been to work at all this week. Each morning I wait around to see if I get called, but not yet. Maybe tomorrow.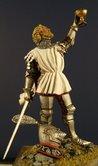 These three photos are of my newest figure, named "Knight of the Holy Grail". I resisted the urge to pay homage to Monty Python, and kept to a serious nature. I pretty much followed the illustration for mine, but changed a few colors. I also had fun painting the design around the lower portion of his helmet.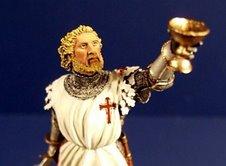 I'm proud of getting his eyes to properly look upwards. This figure is the second in a slightly larger 70mm scale, and I love the size. The heads are just larger enough to allow good detail painting, but not "big".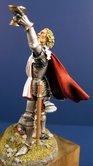 I have a few more to do in this scale, and both are knights. Both will also provide much harder patterns for painting.










top