Dwarf: Drunegar Runekeeper
DeepGroover-(T)
January 17, 2010

Caves
> DeepGroover's Entry Hall > previous > Dwarf: Drunegar Runekeeper > next

---
Click to enlarge. Scroll down for more.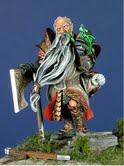 I bought this figure last year with the intent to build it for my mom. She likes dwarves, and has some garden gnomes. I found this one by Andrea, and it was the best representation I could come across.

The scale is 54mm, and it is a metal figure.

The kit base was only the rocky perch, but I added extra groundwork with Sculptamold and scenic grass.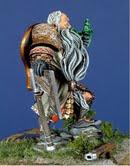 The discarded battle-weary shield is actually a simple base included with old Andrea figures. I always felt they'd make good shields.



The discarded sword sheath is from a little stash of old Games Workshop stuff, and I made the belt from tin. The buckle is a small piece of wire bent to form a buckle.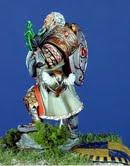 The dwarf, as you can see, is a stately warrior. There was plenty of detail in his armor, and it was great fun to pick this out with paint. I also tried a new style for his armor, varying silver, gold, and copper for a nifty effect.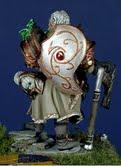 This was also my first time to paint precious gems. I consulted a book for the correct appearance.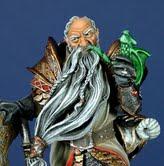 He had lots of character in his face, and I'm pleased to have brought this out. I gave his flesh a hint of red.
The official name for this figure is "Drunegar Runekeeper", and he's part of a fantasy series by Andrea called "The Warlord Saga". There are some pretty cool ones in this line, and eventually I might paint some more of them.
For now I hope you enjoy these photos of mom's new prize. :-)
top