Crusader

DeepGroover-(T)
April 30, 2011

Caves
> DeepGroover's Entry Hall > previous >

Crusader

> next

---
Click to enlarge.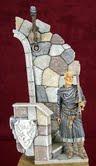 Crusader by Nocturna Models.
The castle section is Seil Models resin, and I had it done before even getting the figure.
I was supposed to get the figure with a prior order, but it was out of stock. I had to set the base aside until it arrived, then I finished it.
Scale is 54mm, everything's resin, and as always painted with enamels.
top