Wolfman, life-sized

DeepGroover-(T)
March 1, 2013

Caves
> DeepGroover's Entry Hall > previous > Wolfman, life-sized > next

---
Click to enlarge.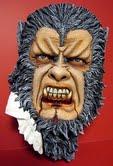 I started on this project way back in late December. Issues with paint sticking to the surface, among other things, kept this project from being finished far too long. I finally got down to business, and he's so close now all that's lacking is mounting him to the custom frame.

As with the others before he's painted entirely with enamels, and all with brushes.

The teeth and mouth are coated with clear gloss acrylic.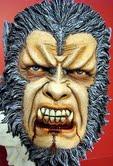 The eyes are glazed with an epoxy product to seal them and give that glossy "wet" look. I very much enjoy doing the eyes. This piece didn't have anything sculpted in, so what you see is hand done.

You can see he has a lot of hair, and that took almost as long as the whole face!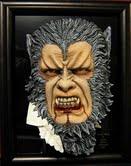 The final photo has him on the frame. I plan to take this one to the Houston show, along with all my other life sized pieces. 4 in all.










top