Vampire

DeepGroover-(T)
January 1, 2013

Caves
> DeepGroover's Entry Hall > previous >

Vampire

> next

---
Click to enlarge.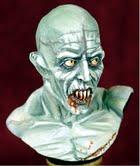 I started and finished it in one weekend. It's a resin bust of a vampire from John's Models in Florida, and is about 1/9 scale. I'd done one of these previously for a friend, and was anxious to paint mine.
The resin took paint very well, allowing me to blend colors easier.
As always I enjoyed doing the eyes.
The cut on his chest is actually my way of disguising a seam line. Rather than try to sand it down I just painted it like a cut. As always it was painted with enamels.
top