Heavy is the Crown...

DeepGroover-(T)
September 6, 2014

Caves
> DeepGroover's Entry Hall > previous >

HeavyCrown

> next

---

Scroll down for more
Click to enlarge



This was another item purchased at the Wonderfest event. I'd done some online research while I was there, and determined this piece was cheaper to get there than to order it.

It's made by a company named Nocturna Productions, and is actually named "The Usurper". However, one of my friends told me of a reference she knew about, and an alternate name was chosen. "Heavy is the crown..." seems to fit the body language of the figure.....tired and weary. He slumps on his throne in utter solitude.

The scenic base was just fine, but I wanted it to fill the area of the wood base. To do this I used a thin piece of styrene plastic, cut it to size, then scored the lines to blend with the tiles of the kit base. When it was painted and weathered it blended right in.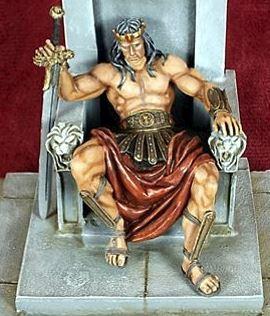 Assembly of the figure was tricky, mainly because each of his arms were separated about shoulder level. One lower arm and hand holds his sword, while the other arm portion had to mate up to his hand, which was sculpted to the throne. I fit all pieces of the figure together, and while the glue was wet I posed him as he would later be, and left him to dry. I also trimmed off some locator tabs on his butt so I could position him the way I wanted easier.

One challenge I really looked forward to was painting his skin. I have a three figure set of Roman gladiators to do later, and I wanted to do something with lots of exposed flesh to see how my color choices and blending would come out. I'm pretty happy with this guy. To give him a more tanned look I mixed leather brown with basic flesh. Shadows were done by adding brown to flesh, and in some deep creases pure brown. Highlights were created by adding white to basic flesh.

This was a fun project, and another in a series of figures I've done by Nocturna. The company's quality is outstanding, and I wouldn't hesitate to do more of their stuff










top