Click to enlarge.
Here's my color scheme on the companion piece to Brute. This smaller bust was included with Brute as a bonus, and while he looks similar to Brute there are some differences. Since I'd already done a reptilian look for Brute, I wanted to make this one more alien.
Another challenge was that, while Brute was molded in light pink resin, this one was also pink but the shade was much stronger. I worried it might cause me problems with showing through my paints.
I started with a light grey for his abdomen and chest. Ironically my worry turned out to be a blessing, as the pink showed through just enough to provide a realistic "translucent" effect to the skin.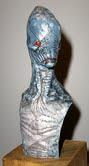 For the rest of the body and head I used a blue/grey color I have. Not content to just paint solid colors, I used a q-tip and a micro brush to dot the skin on his back, shoulders, and head (except for face). I mixed black with the blue/grey for the first layer of dots, then for his back I used pure black. Finally the whole thing was coated with a diluted black acrylic wash. This brought out the wrinkles in the skin. I always knew I'd paint the eyes red on this one, and I think that choice against the skin color really pops.
I didn't have to gloss the eyes. Since I didn't mix the paint before applying, it didn't have a lot of flat pigment, so it went on glossy enough. I added a small white light dot to each eye.
The mouth is kept simple, with only a bit of red added to grey to set it off from the rest of the face.
Once I was content with the actual bust I blacked out the rest of it and stained the wood cube.
The name plate was added today, courtesy of Monarch Trophy.
All in all this was a fun little project in its own rite. It only took about 3 days of actual painting to finish.
top